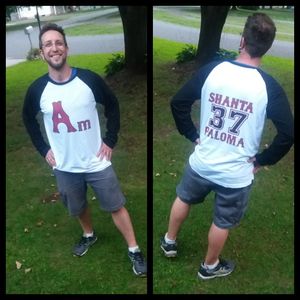 Heeelllllooooo, 
We have a new band shirt! 
When I was little and started writing songs, my daddy joked about how all my songs seemed to be in the musical key of Am.  For you non-musicians out there, a "musical key" is a group of notes that sound good together and have a certain sonic "flavor." The key of Am sounds somewhat bitter-sweet.  Also,  each musical key revolves around what is called the "tonic," which is the musical note that gives a feeling of resolve. The tonic in the key of Am is the note, A.   It's like coming home.   
I grew up moving around from country to country, so I'm not sure I really had a home team,when it came to baseball. As a teenager, I'd joke with my friends that my home team was the key of Am and that one day I'd make a baseball jersey for myself. 
Well, the day has come and here it is! 
Modeling the shirt is our lead guitarist, Eric Baldwin, shakin' what his mama gave him.